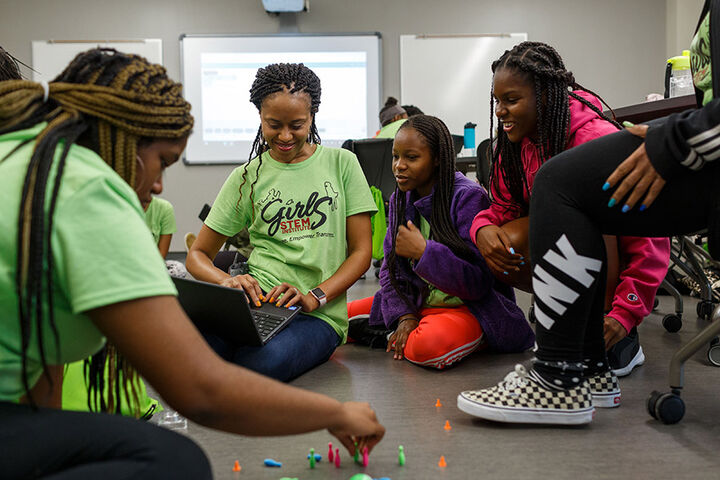 Girls STEM Institute
School of Education - Indianapolis
Girls STEM Institute helps girls of color—who are traditionally underrepresented in STEM fields—develop positive views of science, technology, engineering, and math, and pursue related degrees and careers. The institute is a year-round program, including a summer camp, where girls in grades 3 through 12 interact with STEM professionals and activities.

Your gifts will support expenses incurred by IUPUI for the Girls STEM Institute, helping us serve our girls and keep costs free or reduced.
Additional Info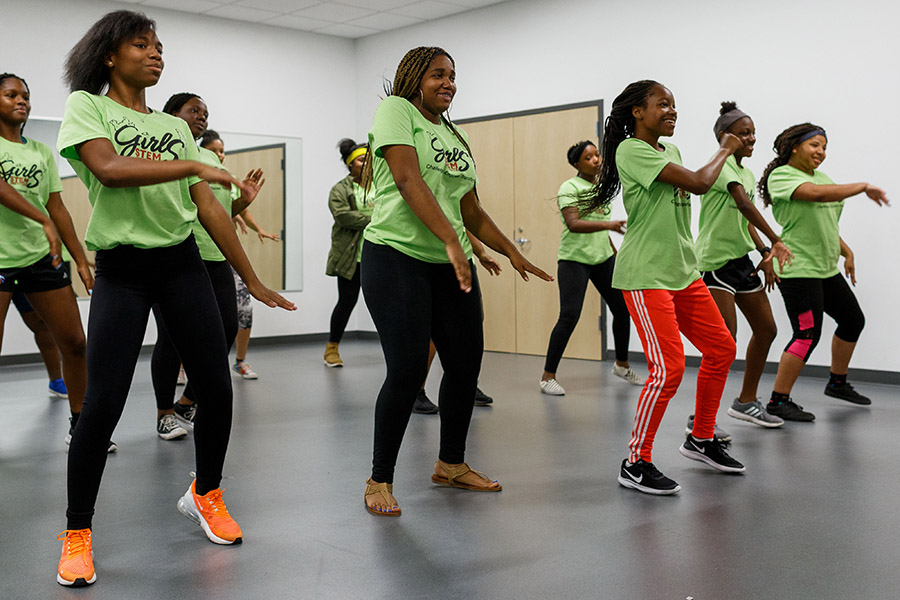 Crystal Morton, PhD, founded Girls STEM Institute to help girls of color develop a more positive perception of STEM through a combination of education and sisterhood.
Dr. Morton, an associate professor of Mathematics Education at IUPUI, created the institute as an answer to her research on black girls' performance in mathematics and the unfavorable external factors that affect their learning. Through Girls STEM, Morton aims to help girls of color develop more positive perceptions of STEM, as well as increase the flow of underrepresented groups to upper-level mathematics courses and other STEM-related disciplines, degrees, and careers.
The goals of Girls STEM Institute are to:
Engage girls in culturally grounded, inquiry-based STEM curricula through hands-on and minds-on experiences.
Instill girls with the interest and confidence to pursue math or other STEM careers, and engage in STEM-related extracurricular activities while providing opportunities to interact with STEM professionals.
Empower girls to understand how STEM-related concepts can be used to address inequities in their personal lives and community.
Through Girls STEM Institute, girls participate in STEM explorations; mathematics literacy instruction; college campus visits; and social, leadership, and college preparatory development. The program partners with several schools and programs within IUPUI, as well as local businesses and various community partners. Girls engage with a diverse group of professionals to help them see that STEM-related careers are within their reach.
Your gift of $40 could cover the cost of a Saturday program for one girl during the academic year.
Your gift of $60 could provide a girl with four summer wellness classes at the National Institute for Fitness and Sport.
Your gift of $80 could provide a girl with lunch and snacks for a week during the summer.
Your gift of $300 could cover one week of summer programming (seven hours a day) for a girl, including meals, snacks, T-shirt, drawstring backpack, and all supplies.
Your gift of any amount will make a difference in the lives of the girls we serve. Thank you!
Impact Stories
Our mission is to empower girls of color to be community leaders, change-agents, and innovators who understand that STEM is a tool of personal and social change.
Crystal Morton, PhD Founder and director of Girls STEM Institute
Important Disclosures
Please note, the name and purpose of the fund displayed on this page constitute the authorized description of the fund by the Indiana University Foundation, Inc. Your gift supports the fund as described herein.