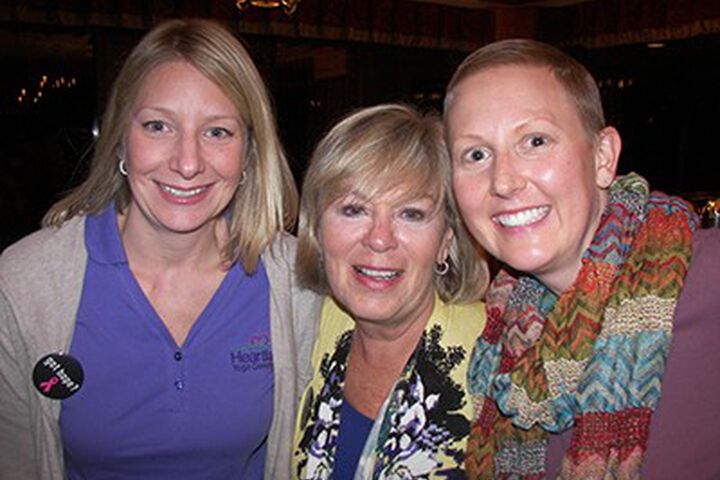 100 Voices of Hope Fund
Indiana University Melvin and Bren Simon Cancer Center
The 100 Voices of Hope Fund is a source of research funding and community inspiration for the breast cancer research team at the Indiana University Melvin and Bren Simon Comprehensive Cancer Center within the Vera Bradley Foundation Center for Breast Cancer Research. Funds raised through this unique program go directly toward an innovative and high-risk "research hunch" focused on breast cancer metastasis. 24 projects have each received $100,000 in gifted funding since 2008.
Additional Info
For nearly three decades, hope generated by research drove Mary Beth Gadus' positive outlook. She lived with breast cancer for more than 27 years and inspired many with her message: Research helps those with breast cancer live longer, healthier lives.
Her passion for research led her to start 100 Voices of Hope in 2008 at the IU Melvin and Bren Simon Comprehensive Cancer Center by asking her friends, family, and fellow survivors to make gifts and help her raise $100,000 annually to fund the promising ideas of Indiana University researchers at the Vera Bradley Foundation Center for Breast Cancer Research.
100 Voices of Hope funds these "out-of-the-box" ideas—the kind of high-risk, high-reward concepts that typically require entrepreneurial funding. Projects, or "hunches," are developed annually by IU researchers. Individual Voices vote to fund the winning idea.
Twelve years later, more than $2.4 million has been raised and 24 hunches have been funded. In addition, the promising work made possible by 100 Voices of Hope hunches has led to more than $9 million in additional funding from national grants for breast cancer. That's quite a return on investment!
Help Mary Beth's voice continue to resonate. Join our extraordinary group of everyday people funding research to stop metastatic breast cancer.
Impact Stories
100 Voices of Hope gives me the opportunity to honor my mother's memory by funding research as her VOICE. Through my donation, I get to actively participate in the project selection and have continual in-person progress reports from IU's team of dedicated and enthusiastic researchers. There is hope!
Kim Warren Advocate
Important Disclosures
Please note, the name and purpose of the fund displayed on this page constitute the authorized description of the fund by the Indiana University Foundation, Inc. Your gift supports the fund as described herein.
Gifts will be administered by the Indiana University Foundation, Inc. which represents Indiana University, including the IU School of Medicine. This is not a gift to Indiana University Health, and the Indiana University Health Foundation will not play a role in administering these accounts.